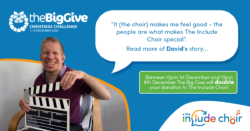 David sings and plays percussion with The Include Choir. His favourite song is Somewhere Over the Rainbow.
He loves the enthusiasm of the choir and says; "It makes me feel good – the people are what makes The Include Choir special".
His Include story…
Since joining The Include Choir David has learnt to play the cajón – a box shaped procession instrument after he got one for Christmas a couple of years ago.
David joined The Include Choir in June 2016 after a recommendation from one of his support workers, Julie. He already knew he loved music and sung in the choir at his church. And he liked the idea of meeting new people, including some people with learning disabilities.
David's best experience with The Include Choir so far was going to the Mini & BMW factory in Oxford. The choir traveled there by minibus and performed at an Empowerment Conference for Oxfordshire. There was an opportunity to walk around the museum afterwards. The event organiser loved it too, she told the choir; 'I wish you every success in the future, the Include Choir are truly amazing'!
Saying connected through Covid19
During lockdown David has not been able to sing at church or in person with The Include Choir. But he has linked-up with the choir on Facebook and Zoom – he says that it's felt good to keep that connection and routine. He hasn't been able to do much else during lockdown and really looks forward to the weekly sessions.
David joins the choir's "Tea Break" socials on Zoom on Saturday mornings. He likes hearing what other people are doing and sharing his own news and views. And he really looks forward to the weekly Facebook Live sessions and joins in with the wide variety of songs.
David's Dad says "We, as parents, are very grateful to The Include Choir for supporting and encouraging David over the difficult time we have all had over during the lockdown period. The Include Choir has enabled David to show and develop his talents at singing and playing".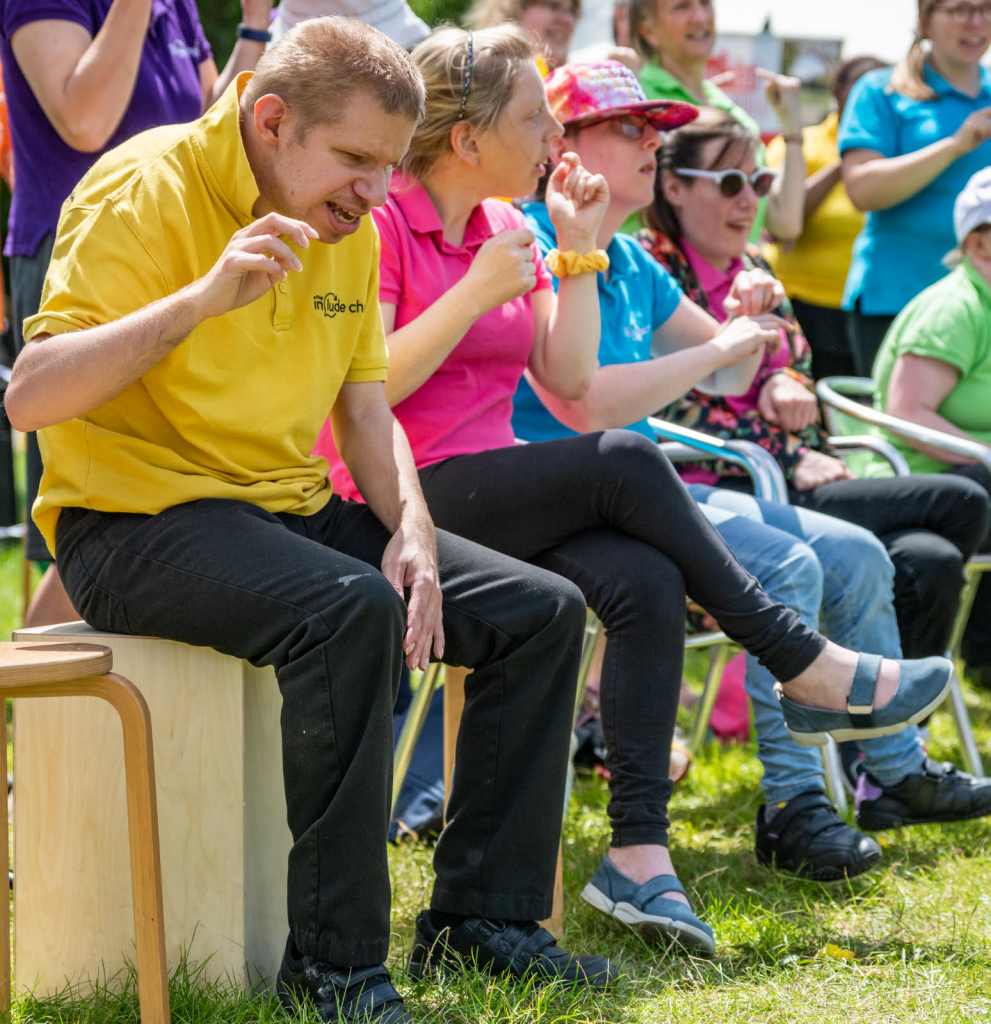 Even when he and his family were on holiday at a campsite in Cambridgeshire, David joined the Facebook Live session via his iPad and used the camper van's grill pan as improvised percussion!
David and his family have learnt a lot about about recordings during lockdown so David can contribute to the choir's weekly songs (shared on YouTube ) about the Makaton sign of the week – they even bought a new microphone!
Final word from David…
"People should watch the choir's videos on YouTube or join the Facebook session to get a really good idea about the choir and see if they would like to join us".
---
Penny Sims
Communications and Partnerships Manager