At Run Reigate 2022 Include.org is one of the official charities.
On Sunday 18th September we'll have a stall in the event village, our inclusive choir will perform and we'll raise awareness of inclusivity. 
Read our blog to find out why the Run Reigate event is so personally significant for our CEO Alix Lewer.
We can offer reduced fee places to runners who would like to raise money for our charity, and we're hugely grateful for all fundraising efforts. We will set up an Include.org team fundraising page.
For details please contact penny.sims@include.org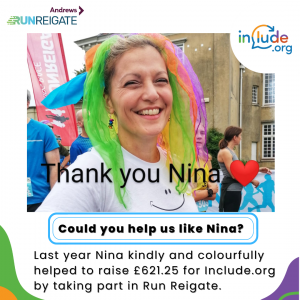 We also need general help and support on the day to make the most of our marquee spot in the event village. To volunteer your time please contact our Volunteer Coordinator karen.wood@include.org
---
There are so many ways you can help Include to make a difference.
You can donate through our Golden Giving site.


Raise money as you shop (at no cost to you!) through Easy FundraisingSubscribe to our YouTube Channel for free.
You could donate resources to the choir, become a business communication partner or sponsor – or donate your time and expertise by Volunteering
However you would like to get involved, we would love to hear from you.
info@include.org