Help us connect and include those at highest risk of isolation and exclusion during the pandemic
A regular/monthly donation could help us to…..
Due to Covid-19, The Include Choir is more reliant than ever on people's regular generosity. If you can make a regular donation, however small, you will make a lot of people smile.
A single donation could help us to…..
All contributions make a big difference and are gratefully received.
To set up a fundraising page, go to 'Golden Giving'.
Thank you for your support.
---
Our members and volunteers would like to share their stories with you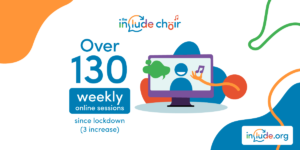 A Square Peg in a Pandemic-shaped hole
Posted in:

Blog, Covid-19
Reflections of a Small Charity CEO after an unprecedented year 'Oh crumbs' (or words to that effect), 'this Covid-19 situation really is serious' was roughly the thought crossing my mind as I arranged an emergency meeting of Trustees on Sunday 15th March 2020. What were we going to do? We'd already put some measures in… Continue Reading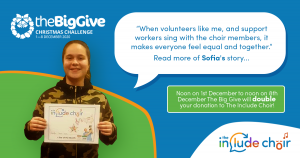 Sofia's Story
Posted in:

Blog, Covid-19, Inclusive Communication
Meet Sofia... Sofia is a volunteer for the Include Choir, and helps with a bit of everything! She says "My favourite song is I'm a Believer because I love signing it, and it's one that makes everyone really happy and gets us dancing!" "Before lockdown, I supported members during choir rehearsals and meetings, helped record… Continue Reading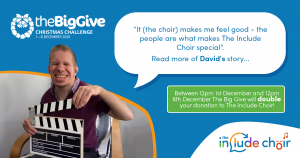 David's Story
Posted in:

Blog, Covid-19, Inclusive Communication
David sings and plays percussion with The Include Choir. His favourite song is Somewhere Over the Rainbow. He loves the enthusiasm of the choir and says; "It makes me feel good - the people are what makes The Include Choir special". His Include story… Since joining The Include Choir David has learnt to play the… Continue Reading
Visit our Blog page to read more stories!