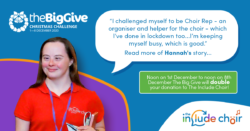 Meet Hannah…
Hannah learnt Makaton in early childhood but she'd forgotten most of it, until she started singing and signing with Include. Hannah and her life-long friend, Ellie joined when Include started in 2016, and have always been a fabulous feature of the choir, right at the center, singing and signing with great passion and energy!
Hannah's favourite thing to sing and sign is The Battle Hymn of the Mental Capacity Act. An original composition by the choir, it raises awareness of how to support people like Hannah and Ellie to make informed decisions about their own lives.
Hannah's decision to help others…
Hannah's Makaton has greatly improved with the choir, to the point that she has taught lots of signs to family and friends as well as the young kids at a children's group she volunteers at near her home. She says, "I was reading with them and signing as well."
Being a member of the choir has given her great confidence in many areas of her life, and the responsibilities that Include encourages its members to take on have been great for Hannah's self-esteem.
She says; "I'm not just a singer and member, I challenged myself to be a Choir Rep – an organiser and helper for the choir, which I've done in lockdown too" Hannah says.
As part of her role she elects the choir's Star of the Month and ensures the recipient gets the certificate. It's a role she carries out brilliantly and is very proud of.
"I know who the Star of the Month is this month…but I can't tell you," says Hannah, with a big smile! She's sworn to secrecy until she makes the big announcement, live on air during the Include Choir Online Facebook session. "It takes a lot of thinking," she says. "I have to think about who's had it before or not and what they have done recently."
She did get a Star of the Month herself once – "I got one for being the Choir Rep…but that was ages ago now!" Maybe she's due another one!
Lockdown living
Hannah has fond and proud memories of performing with The Include Choir at the local Harlequin Theater in Redhill, and a trip up to London to sing the Mental Capacity Act song. That was all before Covid19.
Hannah's mum Kate is a big Include fan. "It's really helped Hannah's understanding and her independence," she says, "I think it's brilliant at the moment because all that support is still there through the lockdown, with all the things that Alix has put in place."
Regarding lockdown Hannah says, "I'm keeping myself busy, which is good, that's the important thing."
She's in a bubble with her parents and enjoys a regular online schedule of activities including a weekly Bollywood dance class and, of course, the choir session on a Wednesday evening and Include's tea break Saturday morning meet-up on Zoom, which is an opportunity to chat to others about what's been going on during the week.
However, she's missing seeing more of her friends and her sisters. "I have seen them but on their doorstep. And I've only met up with one of my friends – Ellie."
Include is very grateful to Hannah for the wonderful contribution she has made and continues to make to Include through the lockdown of 2020. She's always a star to us!
Penny Sims
Communications and Partnerships Manager