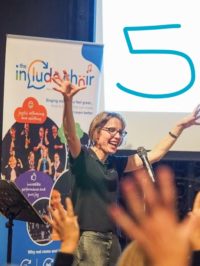 On our 5th birthday (4th May) we can't physically get together to celebrate – instead we've gathered a few of our choir's best bits from the last 5 years!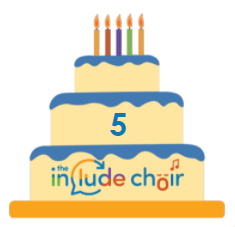 The Include Choir has not stopped making brilliant memories, no matter what comes our way – global pandemic included. And there is plenty more planned for our 5th birthday year, and beyond.
Looking back…
1st year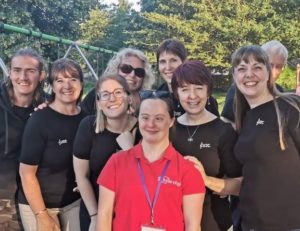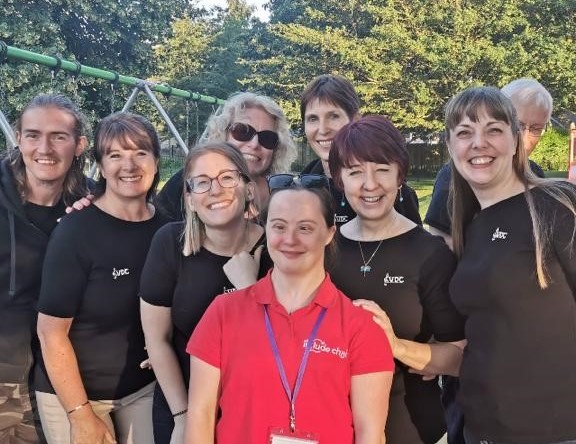 The Include Choir contributed to performance at Warwick School, which was also the start of our current Choir Rep, Hannah's passion for our fellow singers the Vocal Dimensions Chorus Include Choir Agreement – YouTube
We did our first Carol singing at The Belfry shopping centre and Redhill Train Station The Include Choir at Carols at the Belfry – YouTube . These became firm favourites each year – long standing members Marian and Ellie both love these events. Ellie said; "My favourite memory was everyone singing Happy Birthday to me at Redhill Station where we were also Carol Singing! It made my day!"
2nd year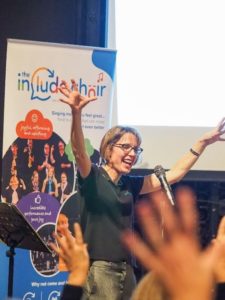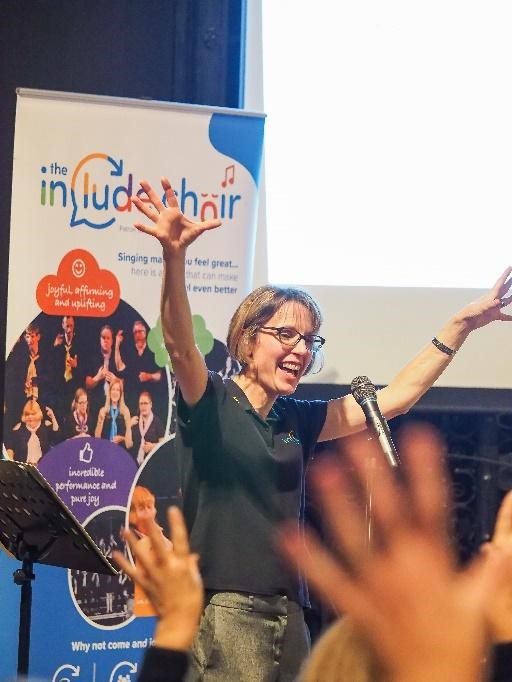 Include's CEO and Founder Alix Lewer, recalls our 1st Birthday, when we had a visit from the local Mayor, (then) David Powell; "He was fab, played a mean guitar, 2nd only in Include Choir 'Mayor Guitar' soloist Hall of Fame, to Keith Foreman!"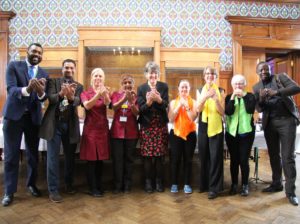 Members David and Josh have fond memories of singing the MCA song – and still love it now.
3rd year
By our 3rd year we were beginning to get bookings far and wide!
Ellie has fond memories of meeting Andrew from Britain's Greatest Dancer at the Family Voice Conference in Woking, where the choir performed and ran a workshop in April 2019.
Sarah loves being on journeys up to London to perform together – by mini bus or train. She said; " I also remember one rehearsal where we couldn't get into the venue, a church, so we all sang in the carpark!" Rowing boats in the car park – The Include Choir – YouTube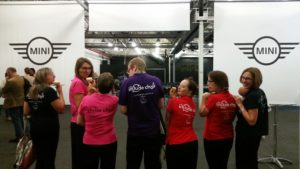 David's Favourite memory was singing about the Mental Capacity Act at an Advocacy Conference at the BMW/ Mini Factory in Oxford.
Hannah's favourite memory is our 1st Big Sing with Vocal Dimension Chorus and holding Alix's son Leon with Ellie. She and Sarah also loved teaching our supporters from BoostFit how to sing and sign our "Hello song", joining in with the exercises and running a stall (Val and Ellie were there too).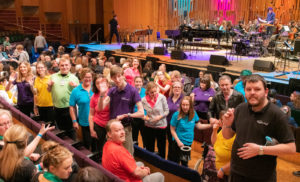 Charlie loved singing at The Barbican and teaching choirs from across the UK the signs for 'The Kettle's On" – based on Jamie's words for the Sky Arts project 'When We Collide'.
4th year
In our fourth year the Choir was in demand and we were invited to perform at more events and speak on more radio shows than ever before!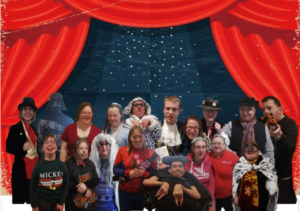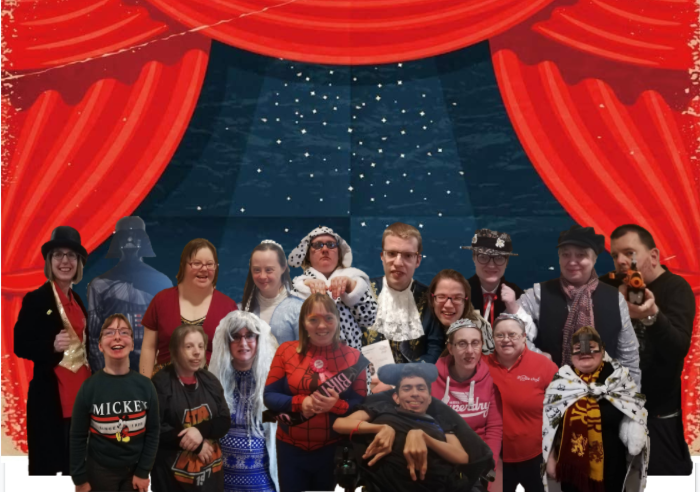 Ellie loved our Radio moments; Sarah and Jay on Susy Radio, and herself & Josh on Redhill Hospital radio. She and many other members also loved our special Sing and Sign in the local Park event for Sai (a member of our choir who sadly passed away but is not forgotten).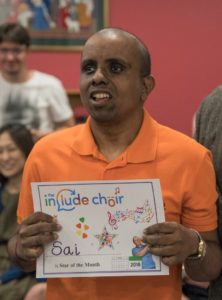 Josh is brilliant at seeing the funny side of slightly tricky situations. He enjoyed when we got stuck outside St Bart's hospital in London (where we were booked to perform at a conference) and had to drive round and round because of roadworks. Our Choir Director, Alix kept getting out and the Coach Driver would say 'I can't stop here' and he would just drive round the block. We just couldn't find the way in! We were over an hour late – but we got a standing ovation and had to sing 2 encores for our performance when we finally sang!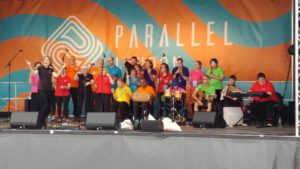 We also remember David getting the fastest time for the sensory 1k at Parallel London!
5th year that no one could predict…
The 5th year of The Include Choir changed many things. We went online and we reached new people. Our online following has grown and we have over 300 members on the Include Choir Online Facebook page.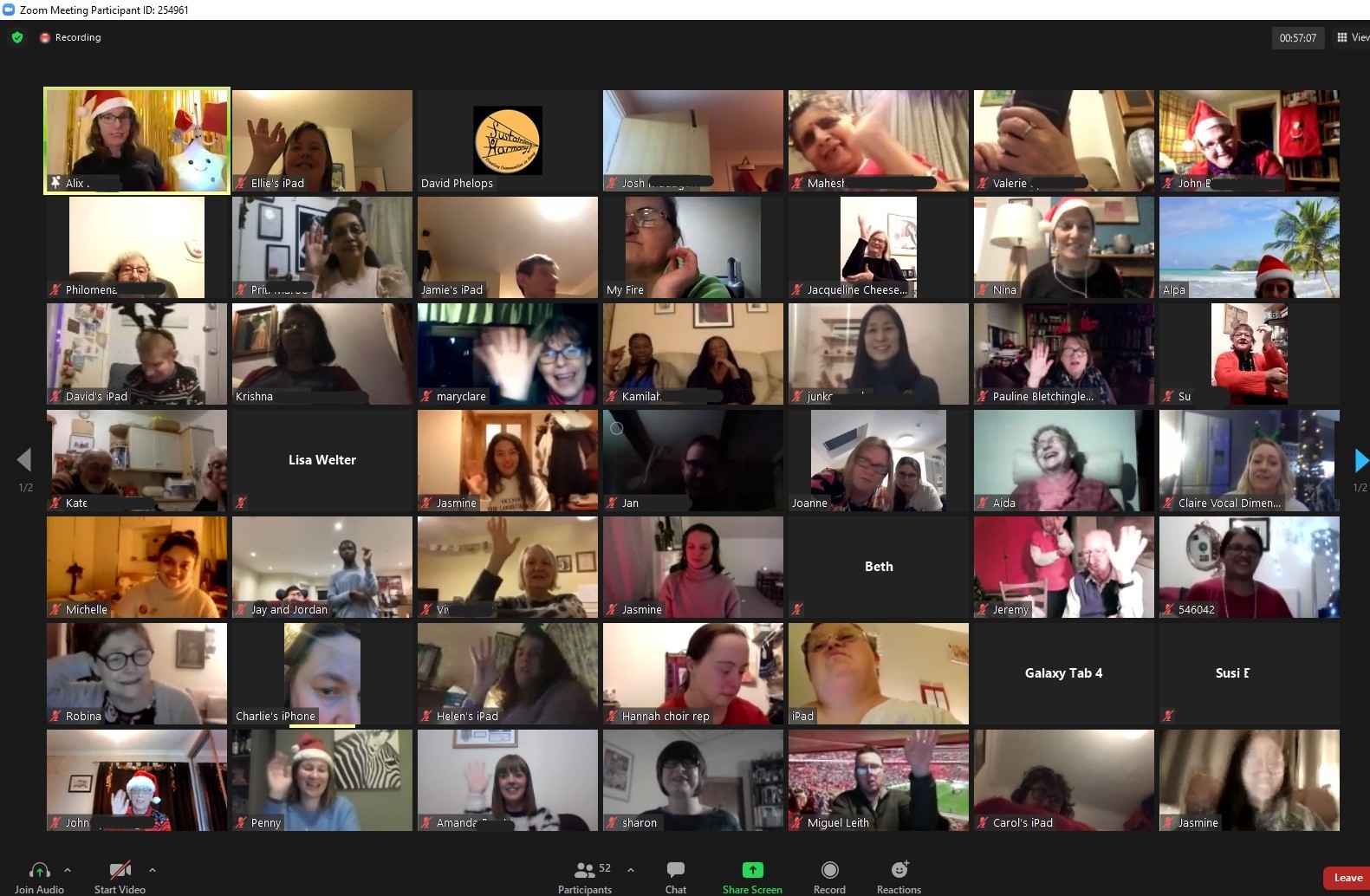 Philip and Simon found us and now love joining The Include Choir online from Hampshire (and we love having them!)
Geoffrey Dennis started working for include.org helping Alix to grow the charity as Head of Business Development. He loves the colour song that our member Louise wrote (In my World).
As well as writing a beautiful song, Louise loves seeing her friends at the Include Choir so much that she learned to use Zoom, and re-joined us online during the second lockdown.
Also during lockdown, Charlie enjoyed joining members of The Include Choir and SASH choir online to virtually sing 'We'll meet again' for the 75th anniversary of VE Day.
Our regular member and percussionist David has loved being able to spend longer learning the songs while we're online. And we have loved hearing his excellent singing over lockdown.
Sarah is really glad that we've been online this last year so she could keep in touch with friends and she is very proud to be Ambassador for The Include Choir.
And that's just a small taster of what we've done together.
Bring on the next 5 years!
Penny Sims
Communications and Partnerships Manager