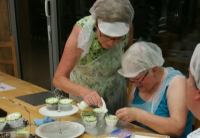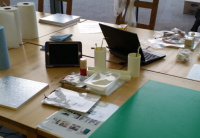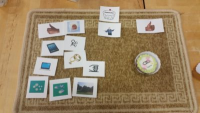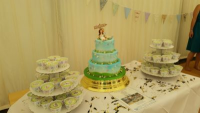 'I hear and I forget. I see and I remember. I do and I understand.' Confucius
Communication is part of everything we do and the best way to learn is by doing. Our model of active inclusive communication learning is based on speech and language therapy evidence and has been presented at conference for Health Education England.
Creative Communication Activities
Include offers a range of practical activities – which also teach inclusive communication skills!
These are designed for people with communication needs and their support services to take part in together. This gives you the chance to learn and practice your inclusive communication skills together in meaningful ways, as well as building relationships and having fun.
We know that sparing staff to attend formal training can be difficult for services. By booking Include Creative Communication sessions, everyone can have fun learning together – and everybody wins.
Whether you fancy trying a spot of 'Communicake' decorating, making afternoon tea, interactive music sessions… or much more – we guarantee that Include's interactive 'Communi-sessions' bring a whole new approach to inclusive communication training
Thumbs up all round. The feedback says it all!
To book sessions or find out more: Contact Us
…And of course, if you're looking for evening activities to support your customers' communication & social needs, and skill up your staff – you can always join The Include Choir