Include is well know for Makaton signing and singing – another important skill that we try to teach and enhance is listening.
Our FREE Easy Read resource this month is about how to be a good listener. You can download it here:
It is so important to make sure people feel listened to and understood, especially if communication is not easy for that person.
Really listening to someone can make them feel good. It can really turn someone's day around.
We spoke to one of our members Josh about why listening skills are so important.
We asked Josh because we have seen what a careful and patient listener he is in person and via Zoom, one to one, in a big group and as an interviewer. Josh's top tip is:
"Don't interrupt – it's annoying – just listen." He says "If you are in a big group wait your turn to speak, if you are on Zoom you can go on mute. When they have finished speaking you can reply."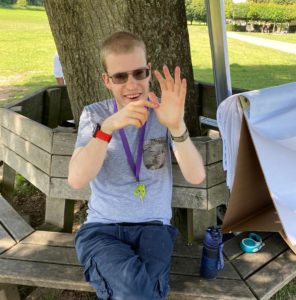 Josh thinks it is a good idea to make sure you have understood correctly – either by asking someone to repeat what they said, asking questions or saying back what you've heard.
We talked about how important it is to pay attention to non-verbal communication. And if you are talking to someone who is blind you need to remember that your own body language, smile, nod or Makaton won't easily let them know that you are listening – you need to say something.
As well as listening to people speak, Josh loves listening to people singing in choirs – which is one reason he is a member of The Include Choir. One of the commitments all our choir members make is to "be good at listening" – these are lyrics in our Include Choir Agreement song, which is a code of conduct written by members.
Please let us know what you think of our resource – we're ready to listen to your feedback.
Our guide is based partly on Samaritans' SHUSH listening tips. You can learn more on their website at samaritans.org/shush
Our thanks also to www.changepeople.org for their Easy Read guide called What is Safeguarding.
Penny Sims
Communications and Partnerships Manager