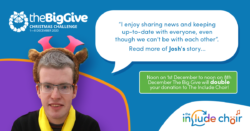 Meet Josh…
The Include Choir has taught Josh singing and Makaton signing.
He says; "The Include Choir makes me feel special because I'm very involved. I help a lot at meetings and rehearsals and keep the choir to time"! He is also a member of the steering group.
Josh often takes part in the choir's 'Sign of the Week' videos, and has found this helpful for learning Makaton. His favourite song is 'Let's go fly a kite' because it's well known and easy to learn – and good fun with the Include Choir props too!
Josh's best bits

Josh says that the choir is special as people are able to sign which helps everyone to understand and join in. Josh learnt Makaton when he was much younger, but had forgotten most of it, so it has been good to practice.
Josh's favourite memory with The Include Choir is when he travelled to London in a minibus with Alix and the choir to perform at Barts hospital.
When they arrived, they were unable to find parking, but the choir does not give up easily and in the end the performance went ahead and had a large audience of about 200 medical staff!
The audience gave some fantastic feedback with comments like "Today I learned that people with learning difficulties are…full of confidence, strength and a sense of fun".
Josh's friends and family are fans of the Include Choir too, and have been to watch him perform and sing with the choir.
Josh's Mum Sally enjoys watching the reactions of people when they see the choir perform, as they get drawn in and everyone enjoys themselves. "Singing with everyone can be quite emotional, as it's such a lovely feeling" She says.
Sally really enjoyed attending Choir-oke in the Harlequin Theater in Redhill. She says "It was a big event where lots of local choirs attended, and at the end the audience members sang along. Watching the choir use props, like the big flying kite, was really enjoyable".
Connecting in Lockdown
Sally has been blown away by the dedication and enthusiasm of staff and volunteers in the Include Choir, "I am amazed at how the choir has been able to keep going since Covid19".
During lockdown, Josh has helped lead an online Arts and Crafts session where members made kites.
He has also been joining all the online choir sessions, sing and sign sessions, and social tea-breaks via Zoom. Josh says "everyone just has a chat…I enjoy sharing news and keeping up-to-date with everyone, even though we can't be with each other".
A final word from Josh
Josh says that other people should join the choir and they can expect "a lot of fun singing that makes them feel good", as singing with the Include Choir makes him feel happy and fabulous!
Sally says; 'Everyone I come across I tell them about the choir because I think it's such a good thing to do!' She would recommend people to join the Include Choir as it's great fun, and the enthusiasm from volunteers and members draws you in. "I don't know anyone that doesn't enjoy being in the choir."
Penny Sims
Communications and Partnerships Manager