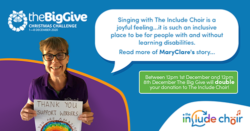 Meet MaryClare…
"Singing with The Include Choir is a joyful feeling" says choir member MaryClare, who sings and signs with the choir.
Her favourite song is the Bicycle Song , because it has a great tune and words which encourage people to enjoy cycling and being outdoors. I ride my bike every day and often sing this as I pedal along.
MaryClare's Include Story
MaryClare joined The Include Choir after she saw an advert in her local community center. "I thought it sounded just right for me – I wanted to sing and sign and make new friends.
I first learnt some Makaton signing at Furzefield school in Merstham where I was working. I wanted to keep on learning and practicing Makaton when I went to work at the hospital. And also, I always loved singing!
Joining The Include Choir has taught me new signs, as well as lots of new songs. For me, signing is a way of using my body to express music and the feeling behind it".
MaryClare has had so many amazing moments with The Include Choir, she finds it difficult to pin down her favourite! Her highlights include singing at community events in the local theater and in the park in Redhill, and doing inclusive communication workshops at Parallel London. "It was great as people were joining in and there was a great sense of community", she says.
"I am proud of the choir and I'm always telling people about it! My parents are also big The Include Choir fans! They have attended lots of the choir's performances and always watch the Facebook and YouTube videos, they love them!"
Why is The Include Choir special?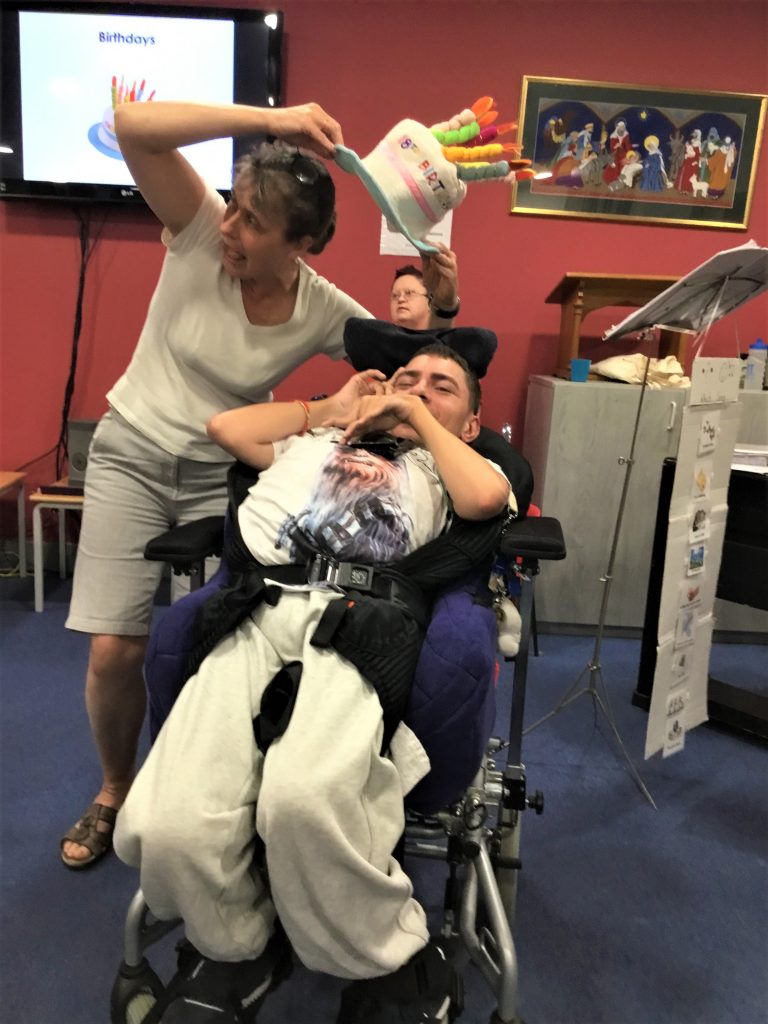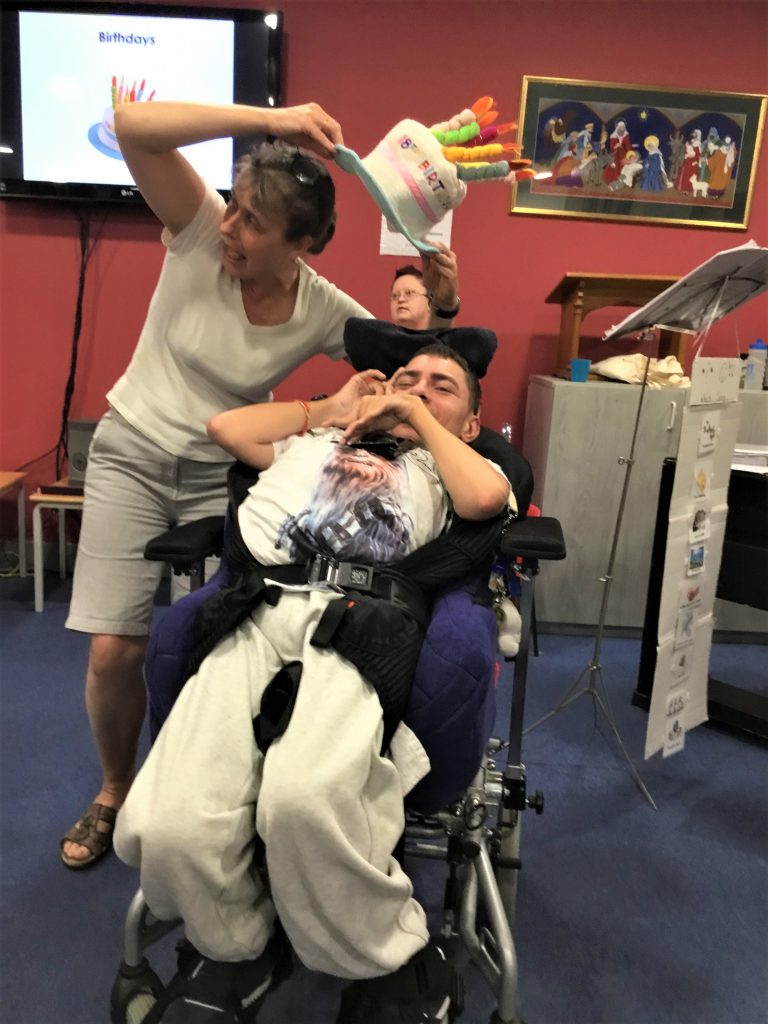 MaryClare says that The Include Choir has taught her the value of total communication, which is communication that uses things like facial expression, hands, body language and signing, as well as words.
"The Include Choir is good for broadening people's horizons, and extending their social circles. And it is important for people with learning disabilities and people without learning disabilities to form friendships and learn respect for each other as this creates a better community. The Include Choir helps people to do this" she says.
"What makes the Include choir so special to me is the people. We are all together and everybody's opinions and feelings are valued."
How Covid-19 changed things
MaryClare is impressed with how the choir has kept going through the lockdown, even when they haven't been able to meet up with each other. "There are so many members who used to come to the in-person choir practices and events, who now take part in the Facebook live sessions or the Zoom sessions.
With Include Choir sessions now happening on lots of different days and online means there are more opportunities for more people to take part, as they can do it from the safety and comfort of their own home. We've even had people join us from very far away from our original base in Surrey – places like Scotland, Wigan and South Africa!"
MaryClare also says; "Although it is wonderful to stay connected and to be able to sing online, nothing beats being able to sing together and to chat and see everyone in person."
Final word from MaryClare
"The Include choir includes everybody, it is such an inclusive place to be for people with and without learning disabilities. The use of singing and signing, with support workers and volunteers brings everyone together on an equal footing.
More people should join the Include Choir because it's really important that people know Makaton signs, even if it's just a few.
The choir is so brilliant; I want more people to come so they can benefit and join in!"
Penny Sims
Communications and Partnerships Manager