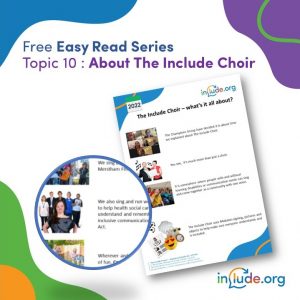 We have exciting developments here at Include.
This summer, very soon, we are launching a new choir!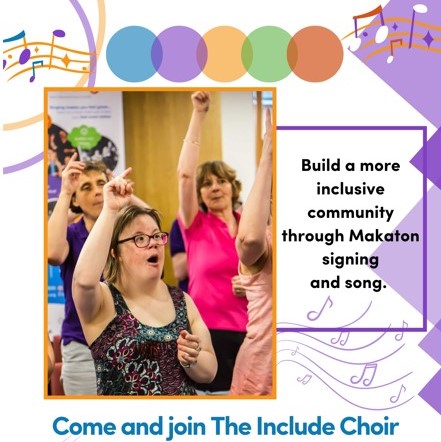 We continue to build the original Include Choir (with rehearsals in Redhill), The Include Choir Online is still here too so people can join us on Zoom or Facebook live. If outdoors activity is more your thing, you can join our Stroll and Sign sessions…but right now we're busy adding a new Include Choir group, which will rehearse in Epsom.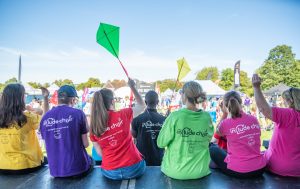 Both choirs will perform at community events and conferences in various locations across Surrey – and in other places like London. Not just in Redhill and Epsom.
You can find details of what is on and when on our website.
Easy Read – explaining about The Include Choir
As we start to introduce a whole new group of people to The Include Choir, we've been thinking about how we explain who we are and what we do to people who don't know Include.org
To help with this, the Include Champions Group took a really close look at how we talk and write about Include. Even to the point of discussing if we use a capital G on the word group when we say Champion's Group!
We double checked which of the accessible fonts is the most popular and we decided on Sofia Pro, because we like it and it is Dyslexia-friendly.
We also took great care to select the best photos and graphics to enhance our next FREE Easy Read which – you guessed it – is all about The Include Choir! An audio version is also available on soundcloud.
The things that make a big difference
Some people might think we're "just a choir" – BUT a lot more goes into championing inclusive communication than just getting together to sing.
The little details that enhance inclusion and participation matter as much as the big steps forward – like launching a new choir. And without volunteers, none of this can happen – the big or the small.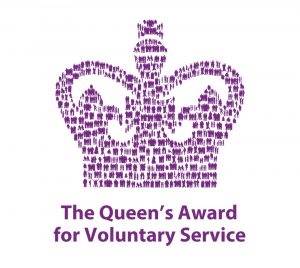 We want to once again congratulate and thank our amazing volunteers who have been recognised as some of the very best with the MBE for volunteer groups – the Queen's Award for Voluntary Service!
If you would like to join or volunteer or have any questions or suggestions about the new choir or anything else, please let us know by commenting below, via our social media or emailing info@include.org
Penny Sims
Communications and Partnerships Manager