Include Choir and Activities
Face to Face Activities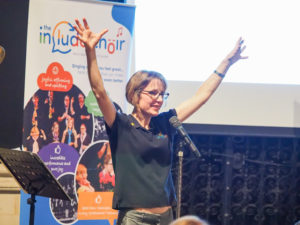 We are delighted to be venturing back into face to face sessions. Our main hub at the moment is Redhill, Surrey. Details of our volunteer vacancies are below…
This term we need a Choir Assistant to help us set up and run rehearsals, which involves supporting our members and using different high and low tech communication aids and supports – as well as lots of singing and laughter!
We're careful about making things as Covid-safe for everyone as possible while still having a LOT of fun! Come and see for yourself…
We do still run some virtual sessions, so check out our Virtual Roles if that's more suited to you.