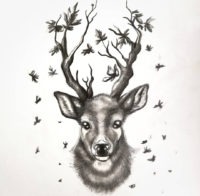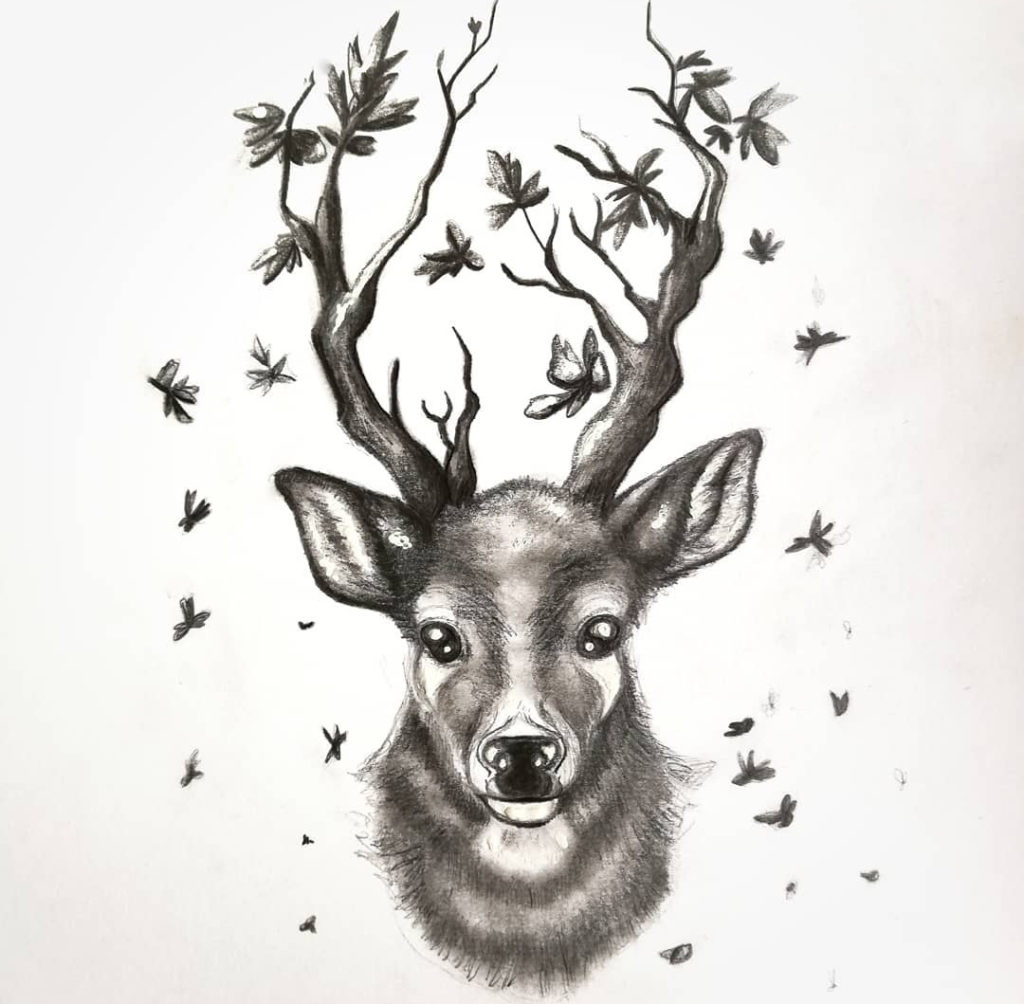 One volunteer's story.
How do you integrate with a new community and learn a new language when the world is in lockdown?
2020 was a strange and very hard year for many people living during the height of the global pandemic. Our very talented graphic design volunteer Christian was trying to settle in a new country at the same time.
We asked him about his experiences…
Finding Include
Before the pandemic took hold – I had moved to the UK from my country – that was January 2020.

At first it felt a bit strange to adapt to a different culture, a different language and I felt a little bit out of place at the beginning.
"A friend mentioned that volunteering would be a great way for me to start integrating with society, and I want to do something that makes a positive impact in people's lives.
I looked on www.reachvolunteering.org.uk and that's what I found when I found Include.
I saw other positions advertised, for example, there was one asking for a designer to design books like editorial things, but I wanted to do something that made a positive impact, felt fulfilling for me and allowed me to communicate with other people – not just be working in isolation behind a screen. And I think I found that by joining Include."
Making Connections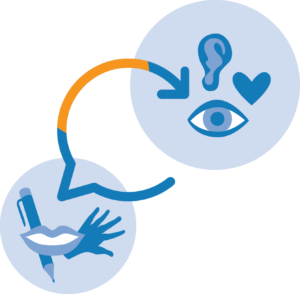 "I think Include played a key role for people with communication needs in the height of Covid19, making them feel more connected, even though we weren't allowed to be face to face.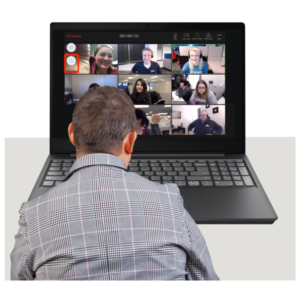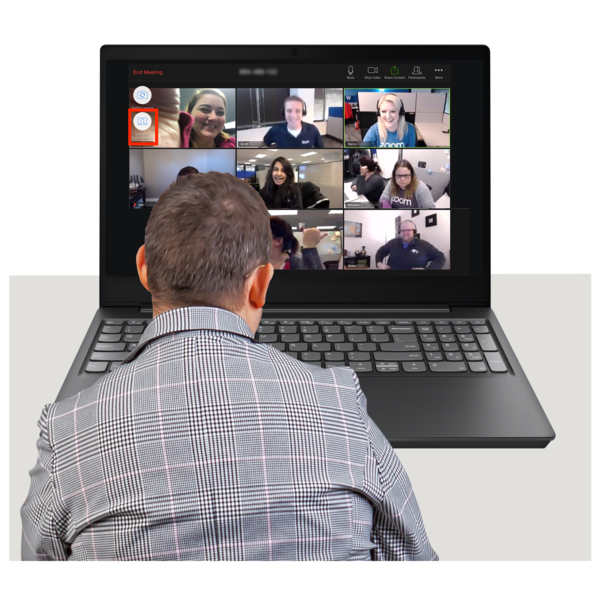 I was also feeling isolated, so having the opportunity to have Zoom meetings and be working on something meaningful made me feel like I was getting my sense of belonging to a place – and that's what I was looking for.
Before then I had barely spoken English.
I understood the grammar, the sentences and the structure because of my work in graphic design – all of the software is in English. And I enjoyed watching English-speaking TV shows with Graham Norton, for example. But I never had the chance to actually speak English until I moved and started volunteering.
I got to do so many meetings and things like that, I think it really helped a lot in developing my confidence with my speaking abilities."
Creative Communication
At Include we're always using different tools to enhance communication experiences for people.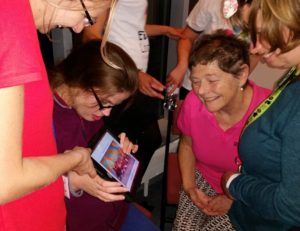 Sometimes that can be using Makaton signing and visual objects of reference, but we also use technology and apps like Pictello and ProloQuo2Go to ensure everyone can get their message across.
During our chat for this blog Christian told us something we had never realised.
"I'm going to be honest, at the beginning when I joined Include, I used to copy emails I received and put them into a translate tool to check what it means in Spanish. Then I used to write my emails, first in the translator, and then put them in English, and then correct them because the tool is not 100%. And that's how I leaned to adapt. Now I don't need to do this, but it was important at that time."
A new perspective
"Include has taught me how to be more respectful and mindful of other people's needs that are different to mine. And always to be aware that even though people have different needs, at the end of the day, we're all the same. We want to be understood, we want to communicate, we need and want to connect with other people. I think even though life presents many barriers, they can be overcome if you keep those things in mind.
From the perspective of graphic design, I feel like I'm more aware now and try to make designs more accessible for everybody.
I've also become aware of The Mental Capacity Act (MCA) during my time volunteering for Include."
Welcomed with open arms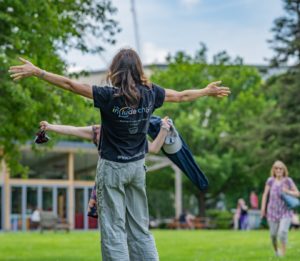 "Whenever I talk to people about Include, I tell them that it feels like a big family, like a big community. I got to join a few sessions with the choir members and other volunteers a few times. And I felt like I was welcomed with open arms by everyone, even though I wasn't like a regular, they were very friendly to me.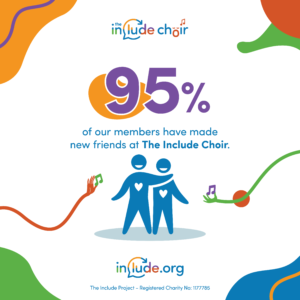 People from Include have made me smile many times. But I think the one closest to my heart is when you sang and signed Happy Birthday to me – it was really nice."
Serious subject:
chocolate and biscuits
There are some things about any society that you can only really learn about through social interaction. No text book or software will truly explain. Christian credits Include with teaching him about the important issues of chocolate and biscuits – or is it cake?!
There was a whole round in the Include virtual Christmas Quiz about chocolate! He says; "That was something new for me because I never thought that chocolate was such a serious subject – I enjoy it too of course! I know now that cups of tea and chocolate biscuits are also culturally significant. My favourite is the Yorkshire black tea with a little bit of soya milk."
Then Christian dropped a bit of a bombshell!
He revealed that his favourite biscuit is…wait for it… Jaffa Cakes!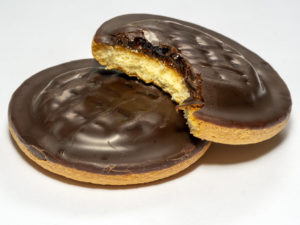 So, we had to have a chat about whether Jaffa Cakes are actually biscuits or cakes!?
Photo credit: https://www.flickr.com/photos/scousesmurf/
Quite a contentious area as tax is charged on chocolate covered biscuits, but not on chocolate covered cakes. A Judge ruled in McVities favour during a legal case in 1991 – declaring that Jaffa Cakes are actually cakes!
I like to think his experience with Include has helped Christian maintain his open mind. Because he does concede; "Hmm it's because of the texture, the consistency of the base I guess it's like a bread or… (errr… is cake the word you are looking for Christian – ha!) yeah yeah, I can see that!"
Volunteering as a pathway to paid work
"Include has helped me to adjust to a different culture, working with British people, the way you work is a little bit different to where I used work. Include welcomed me with open arms and showed me how things work here. It gave me the confidence that I was able to produce high quality work that was also making a positive impact.
Include's CEO Alix, is one of my professional references on my CV, so that is really helpful and means a lot to me because Alix is awesome. She's so kind, patient and hard working. You know, it's a lot of work running a charity and she's a mom, too. It's amazing how she does it." And the admiration runs both ways.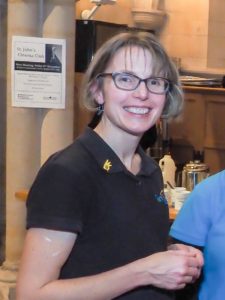 Alix says; "Christian has been an absolute blessing to the organisation, from the moment he joined us. He brings a level of professionalism to everything that he does and right from the start (even when language was a challenge, which he hid so well) he came up with fresh and inventive ideas to help us really build a brand image for Include which we have never had the resources to do before.
Without him, I don't believe we would have had the successful fundraising campaign we had with last year's Big Give Challenge – or won their Small Charity Award. Christian, and other amazing volunteers like him, really do make a difference to people's lives."
Next big challenge
Christian has just started a new job. He says; "In the interview, I was asked to present any work I had done in the UK. And I presented about Include. I talked about The Big Give Christmas Challenge 2020, where we had a fundraising goal, and through our campaign we managed to double the money raised to £10,000. That was a highlight during my interview."
Christian has kindly offered to stay involved with Include. We could not be more delighted! He has high hopes for Include…
"I'm hoping the choir can start to do some more public performances – it's difficult because of the pandemic but gradually going back will reinforce the sense of belonging and being together. Travelling together and going to do a performance at a different place – those things make people feel more included in wider society, I think.
And although I have less time to volunteer, I'm going to try to help Include to raise even more money in The Big Give Christmas Challenge 2021. This year Include needs to raise £20,000 to expand their inclusive communication services to more people in more areas."
We'd love to perform and deliver training up north again one day Christian – and you will be number 1 on our guest list. Thank you for all you do for us.
Penny Sims
Communications and Partnerships Manager