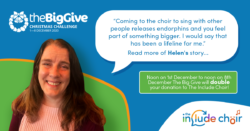 Here's Helen's story…
"People kept recommending the choir to me because they know I love singing and signing. Eventually, I thought I'm going to give this a try. From the minute I arrived everyone was so friendly; I knew it was something I wanted to stay involved with. I absolutely loved it and I was sold."
Helen finds it difficult to choose a single favourite song, she says "We recently recorded This is Me (from The Greatest Showman) for the big screens at Heathrow airport and I thoroughly enjoyed that. I enjoy a lot of the songs, especially the Christmas songs, they are always fun."
Always learning
After training as a Speech and Language therapist with Alix Lewer (Founder and CEO of include.org), Helen joined The Include Choir to share her love of singing and signing – and to see what she could learn.
Helen says she's learnt "to communicate with all sorts of different people, including people who are really challenged in their ability to communicate effectively. I do know Makaton but every week I am learning more signs, it is fantastic. We have so many different kinds of people in the choir, that is the main thing I have taken away – learning from the other members."
Linking up in hard times
Helen says that the choir really helps to keep her mood up. "I have actually had quite a lot of mental health difficulties in the last two years. While I was off work, I found coming to the choir to sing with other people releases endorphins and you feel part of something bigger. I would say that has been a lifeline for me, and has really helped me not feel lonely or down. I am really grateful to Alix for that."
Despite the pandemic Helen continues to take part in the choir's virtual sessions.
"Every Wednesday night I tune into Alix on Facebook, I really look forward to it. On a Friday I do the sing and sign and on Saturday morning I do the virtual tea break, just to see how everyone is doing.
My friend Marian is a huge fan, and even though she has moved to Shropshire, she still tunes in each Wednesday to the Facebook session."
The Include Choir – does what it says on the tin!
"I think Alix's vision was to have a choir for everyone to come along to, irrespective of their background, disability, or anything. I think that is why she chose the name, which is a very clever and memorable name" Says Helen.
"The Include Choir is fun, and there is something for everyone. I don't think it matters if you're not a good singer or a good signer, you can come and do what you like, take from it what you can. Everyone is friendly and accepts one another as they are and everybody is involved, that is what I love about it."
She adds, "It is a very unusual choir, we actually put in a video for Britain's Got Talent, but unfortunately we didn't get through – at least another inclusive signing choir did!"
Singing Alix's praises
Now the bit to make the boss blush, Helen says; "I think Alix is a complete star, I am a huge fan of her. She has put so much energy and passion into The Include Choir and I think that has paid dividends, and everyone is very committed. We are like one big family, and I'm sure other people will tell you that."
Penny Sims
Communications and Partnerships Manager