While being online can be a great source of connection and fun – especially during Covid19 – it's more complicated than just being able to access things online.
Once you're online, how do you stay safe and protect your rights, especially if it is hard to understand the risks?
The organisers of Safer Internet Day have some resources for young people with Special Educational Needs and Disabilities (SEND) https://saferinternet.org.uk/safer-internet-day/safer-internet-day-2022/send .
FREE Easy Read

Here at Include, our Include Champions group shared their own experiences and top tips to create a FREE Easy Read about Internet Safety for anyone of any age.
Our Internet Safety information is also available in audio format on soundcloud
Quiz
Of all the social media channels our Include members tend to use Facebook the most at the moment. Some of our members have experienced problems online. "I have been hacked on Facebook, scams and things asking me to do stuff," said Sarah. And she is not the only one. So, the Champion's Easy Read includes a quiz about how to stay safe when using Facebook.
Song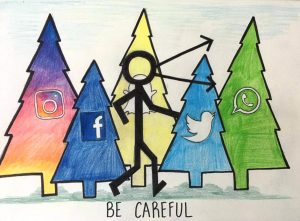 Of course, when we feel passionate about something, The Include Choir usually writes a song about it! You can watch us signing and Makaton signing about staying safe on the Internet on YouTube.
Anti-bullying
Hannah, one of our Champions, filmed some helpful guidance for the Anti-Bullying Alliance. In this short interview, Hannah answers questions like "What do you use social media sites to do" and "Do you have and advice for young people when using social media?"
We have included some of Hannah's wise words in our Easy Read about Internet Safety.
We Recommend
We would like to recommend some other great online resources too (correct at the time of publication):
How to Stay Safe Online – Guidance for Adults and Young People with Learning Disabilities – Digital Safeguarding – Ann Craft Trust
Keeping-Safe-Online-Easy-Read-Guide-Small-File-Size.pdf (changepeople.org)
SafeSurfing Project – What We Do | Mencap
MORE: SAFETY CARDS – Our Safety Centre
Penny Sims
Communications and Partnerships Manager