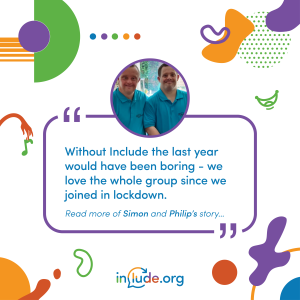 Philip and Simon have done quite a few things together over the years.
"We met at a college where we were supported to learn independence, shopping, cooking and budgeting." They still live together today…
They are based a long way from Include's HQ in Surrey…but have become a big part of the Include family. In fact, they've inspired a plan to combine Zoom sessions with Live sessions.
Included since Lockdown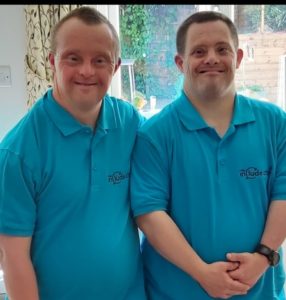 Philip says; "Without Include the last year would have been boring – we love the whole group since we joined in lockdown….
We join in on my ipad through Zoom and Facebook two or three times a week. I even joined two of the Friday sessions from my Dad's car when I was on my way home for the weekend! When we see Alix, it always makes me smile."
Simon agrees; "We love singing and seeing everyone…my favourite is the Bumble Bee song – it makes me happy, and seeing Alix's cat! We'd be sad without Include."
In My World
Philip's favourite song is In My World, which was written by choir member Louise.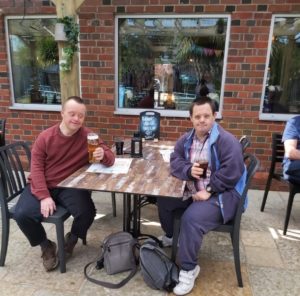 "I sang In My World at my Nan's big family 90th Birthday party – everyone came and when I sang my Nan cried happy tears," says Philip.
Silver Linings
Alix Lewer, Include CEO adds; "Philip and Simon (among others) joining The Include Choir Online has been one of the great silver linings of the pandemic.
I can't now imagine Facebook Live sessions without their supportive and positive input in the chat (and of course – the requests for the Chicken Curry Warm Up, In My World & Dancing Queen).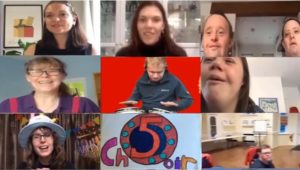 The Zoom sessions would not be the same without their enthusiasm, excellent signing and huge smiles (they really do put the smile in our Sing Sign and Smile Sessions).
And they have even recently joined our Include Champions Group – helping us learn about people's rights under the Mental Capacity Act and review and develop training materials. They are always both excellent listeners as well as contributing greatly to the discussions, with much insight and sensitivity.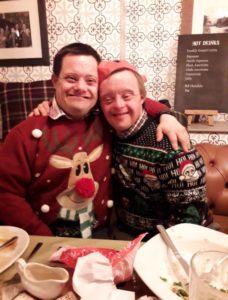 Remote members like Philip and Simon bring so much to Include and are one of the reasons that we are determined to keep offering both local and online services, so we can continue to include and connect people far and wide."

Penny Sims
Communications and Partnerships Manager