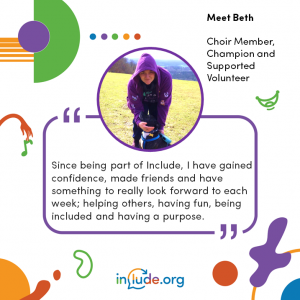 Everyone is welcome
When I talk to people about Include, I always say how much it has made a huge, positive impact in my life and improved my quality of life, given me a purpose and that it is the BEST charity I have ever come across where EVERYONE is included, everyone is welcome.
I want the world to know that there is no place anywhere that makes you feel so included, safe, comfortable, happy and purposeful as Include does.
How it started
I first found out about Include by research. I moved back down to Surrey from Coventry, and wanted to find out if there were any Makaton groups nearby and that's how I came across Include. I messaged Alix and it all went from there.
I wanted to get involved because I was very lonely and I enjoy Makaton so much, and use it a lot personally.
At first, I was very anxious, only because I always am when facing new places, people and situations BUT this didn't last long! Soon I was comfortable and felt 'included' and part of an amazing community and surrounded by lovely, genuine people.
When I first went to Include, I started off just joining in the choir every Wednesday evening in Redhill.
Growing in confidence
It wasn't long before I wanted to volunteer, make a difference and help others.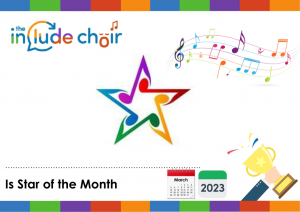 I also started to attend some of the Stroll and Sign walks on Saturdays, going to performances, and helping to design the new 'Star of the month' certificate and another certificate.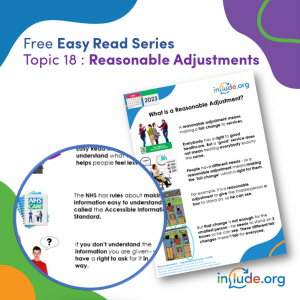 I am also now part of the Champions Group which I really enjoy and feel we all make a difference by working on and designing Easy Reads for people and giving examples and explaining things like 'reasonable adjustments' etc.
Since being part of Include, I have gained confidence, made friends and have something to really look forward to each week; helping others, having fun, being included and having a purpose.
Signs of Change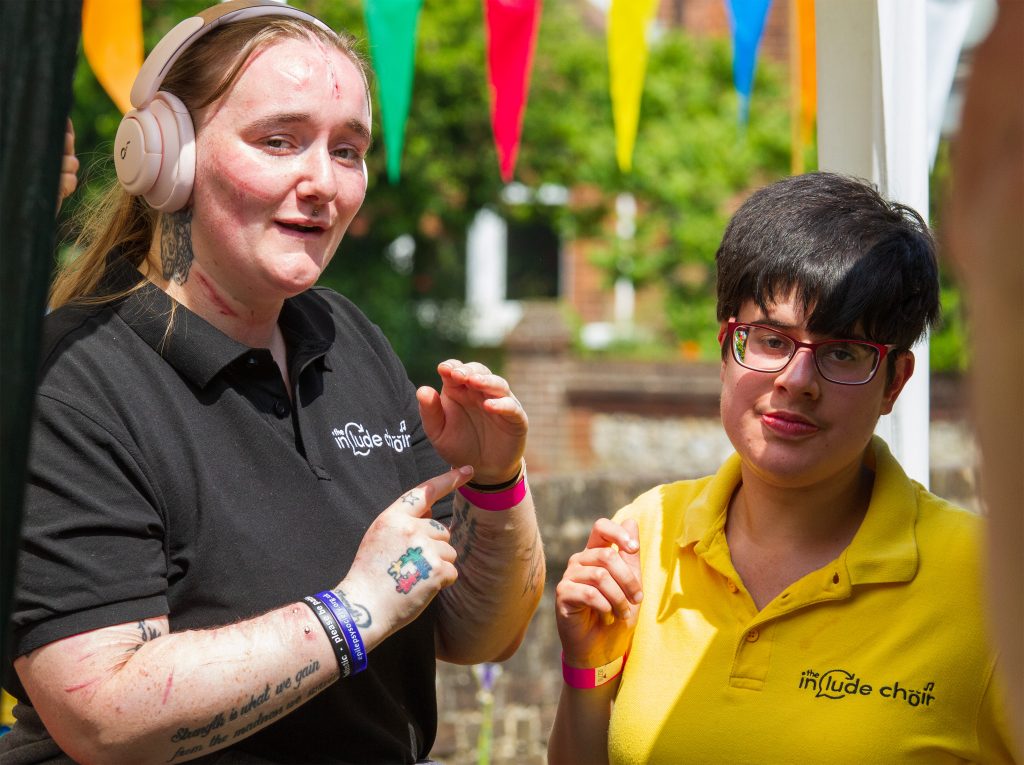 Although I already knew most Makaton signs before I came across include, I have gained more skills from The Include Choir and the Champions Group. These include improved speaking and listening skills, trusting people because I feel comfortable with the people I'm surrounded by and learnt a couple more skills on my computer.
The things I do with Include really help me day to day and help my support workers, family and others around me to understand and communicate with me, and others in a better or different ways.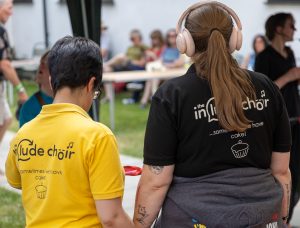 When I struggle, I can become non-verbal, so for support workers and family to know basic Makaton signs is very important and helpful. I am now able to feel confident to teach them the important basic signs that are useful so that they can best support me.
I think it is important for people in all sorts of jobs to know basic Makaton e.g. hospital staff, doctors, teachers in schools, dentists and other professionals that might come across people who may use a different form of communication like Makaton.
We are all different…
My favourite quote is 'we are all different, but all equal' and I feel everyone at Include is treated equally no matter what their needs are and this makes me very proud to be a part of such an amazing group.
The next step in my Include story is to do volunteering more and make more of a difference, help people more, improve more skills and gain more confidence.
I have a goal and that is to do a solo Makaton song at Christmas, I hope I can get enough confidence in time.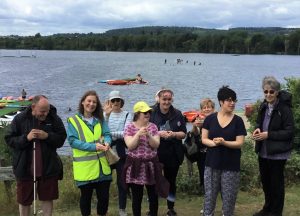 Discovering Include is the BEST thing that's happened and I am very grateful for all that everyone does to make it such a lovely, enjoyable group.
Penny Sims
Communications and Partnerships Manager