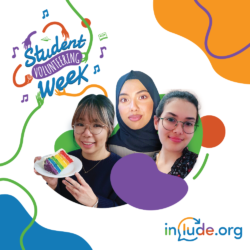 It's Student Volunteering Week! About a third of all of Include's
volunteers are student volunteers, so we'd like to take this opportunity to
send a massive THANK YOU their way! They help us every day to
spread the message of Inclusive Communication.
Three of our volunteers have kindly take time to share their experience
of volunteering:
Name: Sarea, English Undergraduate
Time with Include: 3 months
Role: Newsletter Co-Editor
Sarea has quickly become invaluable in helping us to create our weekly accessible newsletter – keeping our members connected and helping everyone to tell their story
Sarea says:
"Whilst Volunteering at Include, I have learnt a lot about communication difficulties and how 'no one size fits all'. Thus, it is essential to consider a lot of factors when writing, for example the formatting I use and ensuring I am consistent with headlines. I have started to think more inclusively during my volunteering experience by following the important values and missions that Include promotes, like making the world better at including people with speech difficulties.
Volunteering at Include has meant that I've learnt a lot about sign language and how communication can take place in various ways so everyone can take part and actively engage. My favourite part of volunteering at Include has been taking part in the tea breaks where I get to meet all the lovely faces that are part of include and hear about how much they enjoy taking part in all the events Include has to offer."
Name: Jennifer, Speech & Language Therapy Postgraduate
Time with Include: 7 months
Role: Session Facilitator & representative for CardMedic
Jennifer uses her speech and language therapy skills to help us in a range of ways. The Include Choir are impressed with her cake baking skills too!
Jennifer says:
"Include has given me a chance to really put my knowledge in Speech and
Language Therapy into practice to support individuals living with learning disabilities. I help facilitate members' socials and am also part of a project to develop an accessible app to improve communication in hospital settings with CardMedic. These are very rewarding as I can see that my work has a positive impact on people's daily life in many different contexts.
Volunteering with Include has inspired me to think more creatively when working with learning disabilities. I love to hear all our members' fun stories during our tea breaks, and it's truly a delight to be part of this community!"
Name: Jasmine, A Level Student
Time with Include: 2 years
Role: Graphics Creation
Jasmine has been with us since the days when we could sing in one room together! She has adapted brilliantly to the virtual working environment.
Jasmine says:
"I have had the loveliest experience with the Include Choir. I have learnt so much about communication difficulties, about the supportive and caring community that Include provides for people with communication difficulties and their families, and most of all, about the amazing lengths Include goes to make everyone – choir members and volunteers alike – feel included.
I really wanted to volunteer with Include because I want to be a psychologist when I grow up; I am intrigued by the way music can help people express themselves, particularly when they have communication difficulties. I love to design posters and flyers and, with Include's teaching and guidance, I've learnt how to make them user-friendly for the choir members.
One of my favourite parts about having volunteered with Include has been learning Makaton. Not only did this allow me to help sign during online singing sessions, but it was just really fun! The staff and volunteers have been so welcoming and kind, and I am proud to have worked alongside them to make those with communication difficulties feel understood and included."
Hear from more volunteers about their experiences
Find out more about our current volunteering roles here
Nina Bromham
Volunteer Coordinator